BUILDING INFORMATION
The building will be open for public use as follows:
May 1st - October 31st
Sunday
Closed
Monday- Saturday
8:30 am-6 pm
November 1st - April 30th
Sunday
Closed

Monday-
Friday

8:30 am-9:30 pm
Saturday
8:30 am-6 pm

*Administration Hours:
Monday-Friday 8:30 am-4:30 pm
*Administrative Offices closed on holidays
Scheduled Closings:
Martin Luther King Day
President's Day
Good Friday
Memorial Day
Independence Day
Labor Day
Columbus Day
Veterans' Day
Thanksgiving
Thanksgiving Friday
Christmas Eve
Christmas Day
New Year's Day

*The facility will be utilized as a high school age drop-in recreation center from 2:30 pm- 5 pm during the school year (late August-mid June).

2012 SUMMER TRANSPORTATION TO THE
COMMUNITY CENTER
Recognizing the need for services in rural communities, Kent County has partnered with Delmarva Community Transit (DCT) to provide fixed-route summer seasonal public transportation from the towns of Chestertown and Rock Hall to the County Community Center in Worton. Bus stops are conveniently located at the Kent County Public Library (Calvert Street) in Chestertown and Bayside Foods in Rock Hall.
For more information please contact the Kent County DCT Dispatcher between the hours of
7 am and 6 pm with questions at
410-778-5187.
View the DCT/KCCC flyer with departure times and fares here.
The Town of Chestertown has partnered with Kent County Parks and Recreation to provide transportation to the Community Center for the youth residents of Chestertown at no charge. For more information, please contact Kent County Parks and Recreation at 410-778-1948 or email info@KentParksAndRec.org.
View the Chestertown/KCCC flyer with details and departure times here.

CHECK OUT BAREFOOT'N BBQ'N CONCESSION STAND!!
The Community Center features an independently run concession stand. BAREFOOT'N BBQ'N is open for business and ready to serve you from April through October (weather permitting). In addition to offering patrons a variety of reasonably priced daily menu items such as chili dogs, burgers, mozzarella sticks, and french fries. BAREFOOT'N BBQ'N will also offer menu items such as pit beef and ham, half chickens, and half racks of ribs during special events. Hours of operation are generally noon until 7 pm at the Community Center pool and some weekday evening hours at Worton Park, weather permitting.
Thinking about having a *private/group pool party at the Community Center pool? BAREFOOT'N BBQ'N offers discounted private catering for events of all sizes. Pre-arranged *group parties are permitted to bring cake and ice cream inside the pool gates for scheduled events. Food and drink packages must be arranged directly through the concession stand to secure use of the "party zone" in the designated grass area. Accommodations for *group events during public hours as well as outside of public hours are available. Please call 410-937-3587 or 410-920-4449 for more information.
*Group reservations for admittance to the pool are separate from concession arrangements and must be secured in advance with Parks and Recreation. Groups of 15 or more must make arrangements at least one week prior to the desired date. Depending on the group size, groups may be required to reserve the pool as a private rental outside of public hours. Call 410-778-1957 or email info@KentParksAndRec.org for more information.
Download KCCC Pool Use Policies here.

Please see the KCCC Policies and Procedures for more information about the building and rules and regulations.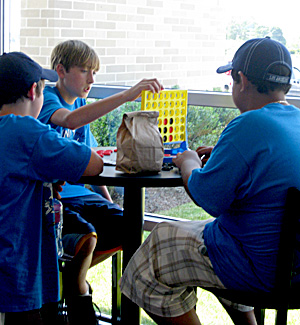 INCLEMENT WEATHER
ANNOUCEMENT POLICIES
Weather closing information and general announcements are posted on the Parks and Recreation home page bulletin board and our Weather Cancellation Hotline at 410-810-3755 (usually no later than 7:30 am the day in question when weather related). Whenever possible (we will do our best, but can't guarantee this will always happen), a courtesy email will be sent to individuals who have provided an email address for announcements and notifications. If you do not receive an email and weather is questionable, please visit our website homepage or call the Weather Cancellation Hotline. To be added to our email list please send an email to info@KentParksAndRec.org and request to be added.
Kent County Community Center: When Kent County Public Schools (KCPS) are closed, close early, or cancel evening programs due to inclement weather, generally, the Community Center will be open to the public on a drop in basis when Kent County Government offices are open, however, the operating schedule may be adjusted as needed as weather conditions warrant or in case of emergencies. If Kent County Government offices have a delayed opening or liberal leave is in effect, morning programs are closed.
School Year (September—May): In general, if Kent County Public Schools (KCPS) are closed, close early, or cancel evening programs, all programs at public school sites are closed. Kent County Parks and Recreation (KCPR) youth programs at the Kent County Community Center (KCCC) and KCPR facilities are closed when county facilities remain *open. KCPR adult programs at county facilities will be open when county facilities remain *open. If KCPS are one hour or 90 minutes late, morning programs will be open. If KCPS are two hours late, morning programs will be closed. These general policies do not necessarily apply to programs offered by private vendors (please refer to program description) at the Community Center as they determine their opening and closing schedules when the Community Center remains *open on a normal operating schedule when there is inclement weather.
*All programs are closed when the Snow Emergency Plan or the State of Emergency Plan is in effect.
Weekend/Summer: In general, announcements for weekend and/or summer programs and events held at the KCCC or a KCPR facility are posted by 8 am on the day in question. Decisions for programs with a start time before 8 am will be posted by 10 pm the night before.
FACILITY ACCESS CARD
(expires one year from date of purchase)
In-County Rates

Youth 10-21:

$5

Adults 22-54:

$10

Seniors 55+:

$5

Out-of County Rates

Youth 10-21:

$10

Adults 22-54:

$20

Seniors 55+:

$10

Family Plans (must reside in the same Kent County household and discount only given if purchased in a single transaction)


Family of 4:

$25

Each additional family member: $3
Replacement cards are double the
original fee.
Organizational Facility Access Card
Download Application here.

(Kent County care based organizations)
Maximum of 15 attendees per visit: $45
Attendance must be during public hours
Must call ahead to confirm drop-in availability and provide an attendance sign in sheet listing attendees.
The benefits of the Facility Access Card include:
State of the art facility
WiFi throughout facility
Use of lobby game tables (ping pong, billiards, air hockey, and foosball)
Computer Facility printing services*, and Kent County Public Library books (*additional printing fees applicable)
Open Gym
Open Multi-Purpose/Fitness room
Discounted room rental rates
Discounted daily pool admission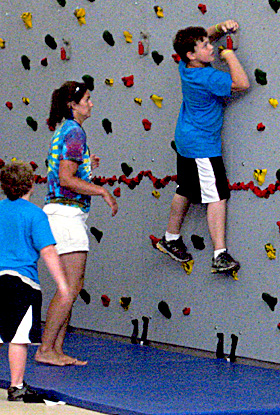 AFTER SCHOOL HIGH SCHOOL AGE
DROP-IN RECREATION CENTER
Ages:

Dates:

First day of school-Last day of
school (full days only)

Days:

Times:

Place:

Cost:

Free for Facility Access Card Holders
School's over, but you're not ready to go home yet? Come to the Community Center for some open gym time and bring your friends! This is a great opportunity to come relax after the school day, get your homework done, and hang out with friends in a safe environment.
Call 410-778-1948 or email info@KentParksAndRec.org for more information.

KENT COUNTY PUBLIC LIBRARY
WORTON COMPUTER FACILITY
The Kent County Public Library (KCPL) in partnership with Kent County Parks and Recreation (KCPR) is pleased to announce the establishment of the KCPL Worton Computer Facility at the Kent County Community Center. The Computer Facility has seven computers available for public use equipped with Internet access, a wide range of online library resources, and educational games. The computers are governed by the KCPL computer use policy. In addition there will be books to borrow on the "trust system". The facility will be monitored by the KCPR staff. You do not need to have a Facility Access Card (FAC) or Library Card to use the Worton Computer Facility or books; but if you do not have a FAC, a Guest Pass is required.

HOLIDAY SHOPPING GALLERIA
2013 Dates TBD
Kent Youth, Inc. and Shared Opportunity Service, Inc. will once again be hosting
the Holiday Shopping Galleria fundraiser on October 12 from 5 pm - 8 pm, and on October 13, from 10 am - 4 pm at the Community Center.
A Patrons' Cocktail Party will be held on October 12, featuring exclusive shopping with all the vendors, a raffle, silent auction, hors d'oeuvres and bar. Tickets for this event are $30 in advance and $35 at the door. Saturday October 13th will feature a full day from 10 am to 4 pm of holiday shopping opportunities with our vendors. Gourmet foods, ladies clothing, accessories and jewelry, children's toys and clothing, artists, artisans, pet gifts and home decor will be offered for sale. A cafe lunch will be available and a raffle for a wide selection of special gifts will be held. General admission is $5 at the door.

For more information and to purchase tickets for the Patrons' Cocktail Party, visit
www.kentyouth.com/specialevents.htm or call Kent Youth at 410-778-1370.


KENT COUNTY DANCE WITH THE STARS
2014 Dates TBD
The fifth annual Horizons Dance with the Stars fundraiser takes over the gymnasium of the Community Center on Saturday evening, January 19, as eight Stars and their dance-pro partners compete for donations to Horizons at Radcliffe Creek School, a summer enrichment program for low-income public school children in Kent County. The event gets underway at 6 pm with a cocktail buffet and the show is slated to begin at 7 pm. In addition to proceeds from ticket sales the Horizons program benefits from the cash votes cast for the dancers. The votes can be cast in advance in three ways: online at www.radcliffecreekschool.org/dwts, by mail at Horizons at RCS, 201 Talbot Blvd., Chestertown, MD 21620, or by giving the cash or check donations (checks made out to Horizons at RCS) directly to the dancers to bring with them to the competition.

For reservations, please visit www.radcliffecreekschool.org/dwts.
For questions, please email horizonsradcliffe@gmail.com or call the Horizons office at 410-778-9903.