BUILDING INFORMATION
The building will be open for public use according to the schedule below.
May 1 - October 31
Sunday
Closed
Monday-Saturday
8:30 am-6 pm
November 1 - April 30
Sunday
Closed
Monday-
Friday
8:30 am-9:30 pm
Saturday
8:30 am-6 pm



*Administrative Hours
(Closed on Holidays):
Monday-Friday 8:30 am-4:30 pm
Monday-Friday 8 am-5 pm
(Mid June-Mid August)

The Community Center will be closed for public and private use according to the schedule below:
Holiday Obervance Days:
*Memorial Day: Last Monday of May
*Independence Day: July 4
*Labor Day: 1st Monday of September
Thanksgiving: 4th Thursday of November
Day After Thanksgiving: 4th Friday of November
Christmas Eve: December 24
Christmas Day: December 25
New Year's Eve: 7:30 pm Closing
New Year's Day: January 1
*The Community Center Pool will be open.
The Parks and Recreation Administrative Offices will be closed, but the building open to the public according to the schedule below:
Martin Luther King Day: 3rd Monday of January
Presidents' Day: 3rd Monday of February
Good Friday: Varies
General Election Day: Varies
Columbus Day: 2nd Monday of October
Veterans' Day: November 11
*The facility will be utilized as a high school
age drop-in recreation center from
2:30 pm- 5 pm during the school year (late August-mid June).

Please see the KCCC Policies and Procedures for more information about the building, as well as rules and regulations.

NEW
EXERCISE EQUIPMENT IS HERE!
Come check out the additional pieces of equipment that are sure to enhance your workout routine. Whether it's one of the Treadmills, Ellipticals, Recombinant Bikes, or Stair Steppers, the Multi-Purpose Room has the right cardio equipment for you. We also offer a variety of hand weights, body bars, medicine balls, and stability balls, to add to and enhance your workout. Use by patrons under the age of 16 requires in-room supervision by an adult age 21 or older at all times. Daily access to the Multi-Purpose Room is available to Facility Access Card holders.
Call 410-810-5948 or email info@kentparksandrec.org for more information.

SUMMER 2015 TRANSPORTATION
TO THE COMMUNITY CENTER
Recognizing the need for services in rural communities, Kent County has partnered with Delmarva Community Transit (DCT) to provide fixed-route summer seasonal public transportation from the towns of Chestertown, Rock Hall/Baywood Village, to the Kent County Community Center in Worton. Bus stops are conveniently located in each town (Kent County Public Library, Bayside Foods).
*Dates June 22-August 21 (No service July 3)
*Dates subject to change pending Kent County Public Schools' schedule.
For more information and questions please contact the Kent County DCT Dispatcher between the hours of 7 am and 6 pm at
410-778-5187.
View the DCT/KCCC flyer with departure times and fares here.

CONCESSION STAND
KCPR will operate the pool concession stand this season and is open for business and ready to serve you! The concession stand will generally be open from 12 pm-7 pm when the pool is open (weather permitting). Menu items include hotdogs, burgers, pizza, soft pretzels, nachos, mozzarella sticks, fries, assorted chips, ice cream, and drinks. Cold sandwiches are available beginning mid June. For more information please call the Kent County Parks and Recreation main line at
410-778-1948.

Food in delivery containers is not permitted inside pool gates. For a more detailed review of Kent County Community Center Pool policies click here.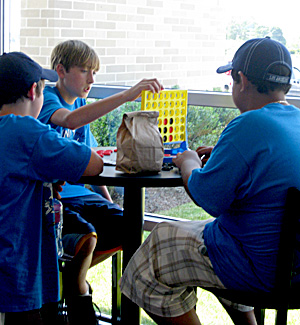 INCLEMENT WEATHER
ANNOUCEMENT POLICIES
Weather closing information and general announcements are posted on the Parks and Recreation home page bulletin board, the Kent County Community Center Facebook page, and our Weather Cancellation Hotline at
410-810-3755 (usually no later than 7:30 am the day in question when weather related). Whenever possible (we will do our best, but can't guarantee this will always happen), a courtesy email will be sent to individuals who have provided an email address for announcements and notifications. If you do not receive an email and weather is questionable, please visit our website homepage or Facebook page or call the Weather Cancellation Hotline. To be added to our email list please send an email to info@KentParksAndRec.org and request to be added.
Kent County Community Center: When Kent County Public Schools (KCPS) are closed, close early, or cancel evening programs due to inclement weather, generally, the Community Center will be open to the public on a drop in basis when Kent County Government offices are open, however, the operating schedule may be adjusted as needed as weather conditions warrant or in case of emergencies. If Kent County Government offices have a delayed opening or liberal leave is in effect, morning programs are closed.
School Year (September—May): In general, if Kent County Public Schools (KCPS) are closed, close early, or cancel evening programs, all programs at public school sites are closed. Kent County Parks and Recreation (KCPR) youth programs at the Kent County Community Center (KCCC) and KCPR facilities are closed when county facilities remain *open. KCPR adult programs at county facilities will be open when county facilities remain *open. If KCPS are one hour or 90 minutes late, morning programs will be open. If KCPS are two hours late, morning programs will be closed. These general policies do not necessarily apply to programs offered by private vendors (please refer to program description) at the Community Center as they determine their opening and closing schedules when the Community Center remains *open on a normal operating schedule when there is inclement weather.
*All programs are closed when the Snow Emergency Plan or the State of Emergency Plan is in effect.
Weekend/Summer: In general, announcements for weekend and/or summer programs and events held at the KCCC or a KCPR facility are posted by 8 am on the day in question. Decisions for programs with a start time before 8 am will be posted by 10 pm the night before.