Park Regulations I Pool and beach Regulations I Rental Policies and Fees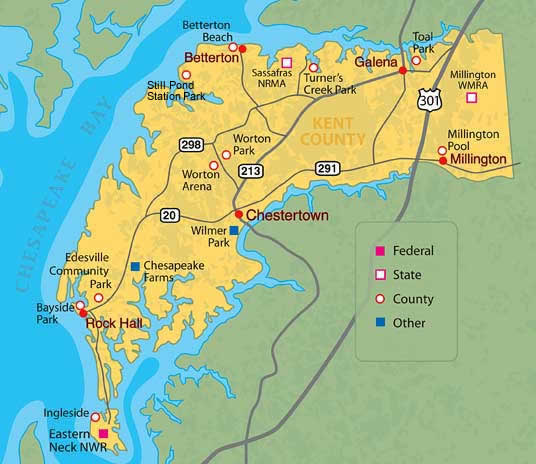 KCPR has nine park facilities around the county. Activities available range from picnicking to bird watching, hiking, swimming, fishing, sports recreation, and numerous other activities. In addition to public use, the facilities can be rented for private functions. Download the Facility Rental Brochure here.

Download the Pavilion Rental Application here.
Download the Special Park Use Rental Application here.
Download the Pool Rental Application here.
Download the Ballfield & Multi-purpose Athletic Field Rental Application here.
Per Kent County Public Law (Section 64 - Domestic Animals), all dogs shall be kept under restraint. Animal owners shall be responsible for the removal of any excrement deposited by the animal. Violations will result in fines of not more than $400.

DO MORE TO PROTECT BETTERTON BEACH AND KENT COUNTY PARKS.
View the Pet Waste Program here.
All county parks are closed from dusk until dawn.


Kent Agriculture (AG) Center 21349 Tolchester Beach Rd, Chestertown, MD 21620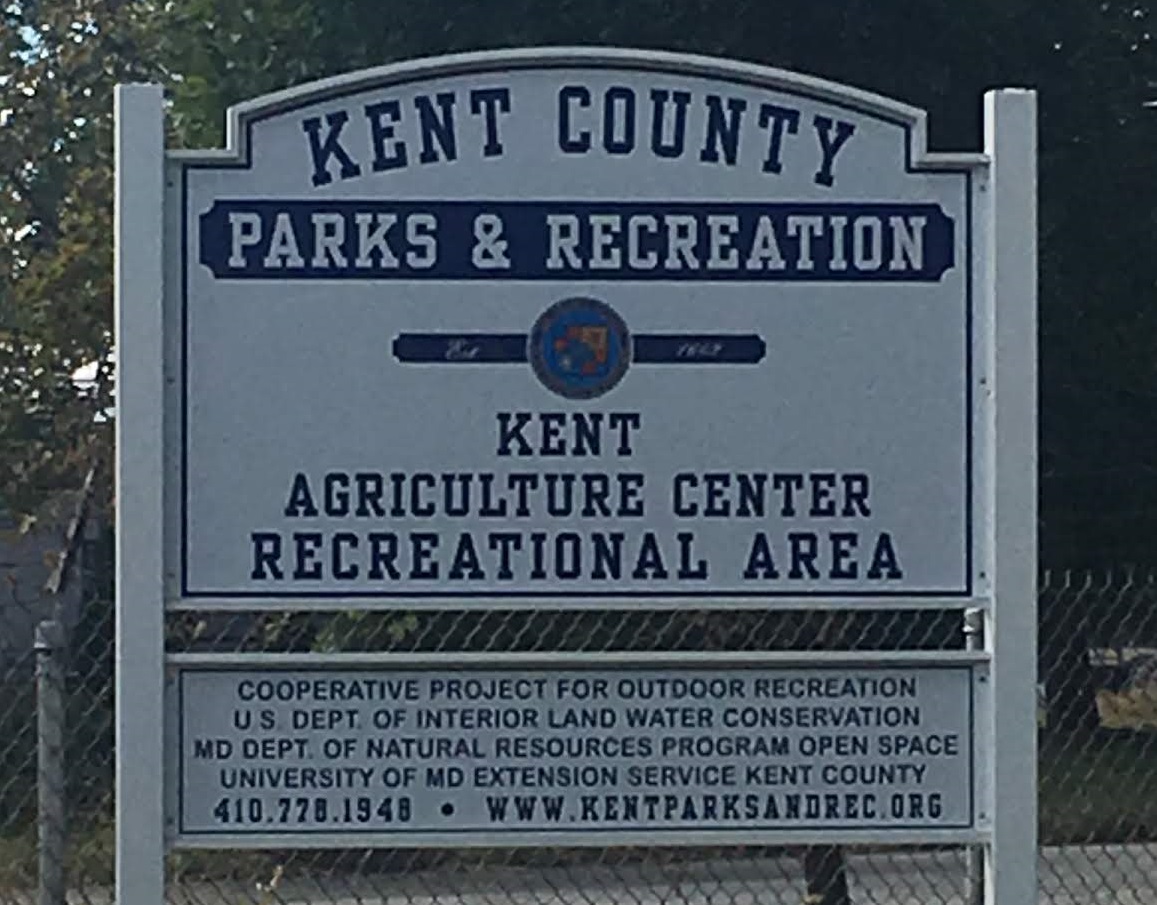 The Kent County Ag Center (home of the annual 4-H fair) was acquired through the National Park Service, Department of the Interior, Federal Lands to Parks Program. Located on Tolchester Beach Road, this 22.6 acre property serves as the home for the annual Kent County Fair in late July of each year.The Fair features great food, rides, 4-H and community exhibits, animals, tractors, games and entertainment.The focus of the fair is agricultural education and providing educational opportunities for County youth.The greased pig contest, bull-riding and the 4-H livestock and cake auctions are popular fair events. Plan a great escape right in your own back yard! Call 410-778-1661 to contact the University of Maryland Cooperative Extension Service or e-mail This email address is being protected from spambots. You need JavaScript enabled to view it. for more information.


Francis Cann Demonstration Woodlot 13123 Still Station Road, Still Pond, MD 21667
Located off of Still Pond Creek Road in Worton, this 8 acre property is a special use area for educational purposes such as horticulture, nature, and the environment. Use must be scheduled in advance and coordinated with Department of Parks and Recreation.


Millington Pool (Outdoor Pool) 154 Millington Road, Millington MD, 21651 443-480-6443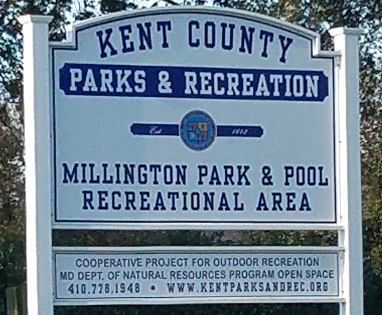 Click here for a Map of Millington Park and Pool
Located in the heart of Millington, and renovated in May 2015, Millington Pool is open Tuesday through Sunday, 12 pm-6 pm, (from Memorial Day weekend through Labor Day, with weekends only when Kent County Public Schools are in session), and features a bathhouse with *restroom facilities, tennis and pickleball courts, and a picnic grove. Pool rentals include exclusive use of the pool outside normal operating hours and includes lifeguards. View the Pool Facility Rules here. Call 410-778-1948 or email This email address is being protected from spambots. You need JavaScript enabled to view it. for pool rental information.
MILLINGTON POOL ADMISSION POLICIES
Download the details of the pilot program, including the guidelines for issuance of FREE passes to Kent County residents here.


Bayside Landing Pool (Outdoor Pool) 20927 Bayside Avenue, Rock Hall, MD 21661 410-810-2288 (Seasonal)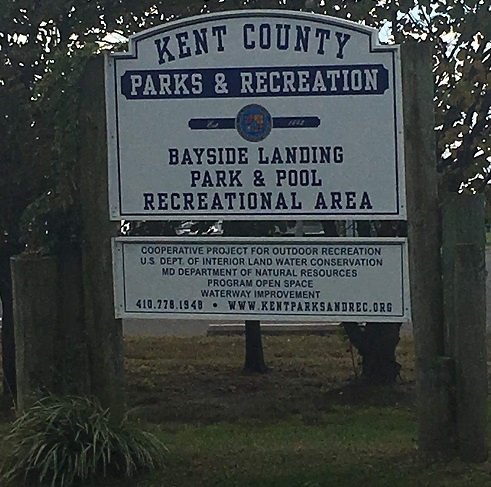 Bayside Landing Park is located off of Bayside Avenue in Rock Hall and is centered along the Rock Hall Harbor. The public swimming pool is open Thursday through Sunday, 12 pm-6 pm (from Memorial Day weekend through Labor Day, with weekends only when Kent County Public Schools are in session), and has a renovated bathhouse with *restroom facilities. Bayside Landing also features deep water, dual boat ramps, and 39 boat slips (please call the County Public Landings office at 410-778-7439 for more boat ramp and slip details). A walkway joins the park and the public bulkhead which hosts various special events throughout the year.
*The hours the restroom facilities are open to the public are during the Town of Rock Hall special events when the public swimming pool is open on weekends only, Saturday - Sunday, Memorial Day weekend through Labor Day; and Thursday and Friday when Kent County Public Schools are not in session, generally mid-June through the weekend before schools reopen in late August. View the Pool Facility Rules here. Call 410-778-1948 or email This email address is being protected from spambots. You need JavaScript enabled to view it. for pool rental information.
FREE ADMISSION to Bayside Landing Pool! Safety is our number one priority. At the discretion of lifeguards on duty, when maximum capacity limitations are reached, entry will be monitored and may result in limited entry. Thank you in advance for your understanding and cooperation!


Still Pond Station Park 24188 Still Pond Neck Road, Worton, MD 21678
Acquired in 2003 under the Department of the Interior's National Park Service Federal Lands to Parks program, this 11 acre passive recreation waterfront property boasts a beautiful view of Still Pond Creek. Still Pond Station Park is currently an undeveloped park with no bathroom facilities or trashcans. As a trash-free park, patrons are required to bring their own trash bag and take trash with them after each visit. The facility has an extremely narrow shoreline with limited space to accomodate patrons. The County is making plans for developing the park in the future (picnic pavilion, playground, swings, restrooms and parking lot improvements). The boat ramp is for launching non-motorized watercrafts only and is not a public landing. The USCG owns a portion of the property and operates as a seasonal USCG location from April through October and monitors waterways and grounds. The beach and grounds are also monitored by the Department of Parks and Recreation, Department of Public Works and Kent County Sheriff's Office. Swimming is at your own risk.


Edesville Park 22020 Lovers Lane, Rock Hall, MD 21661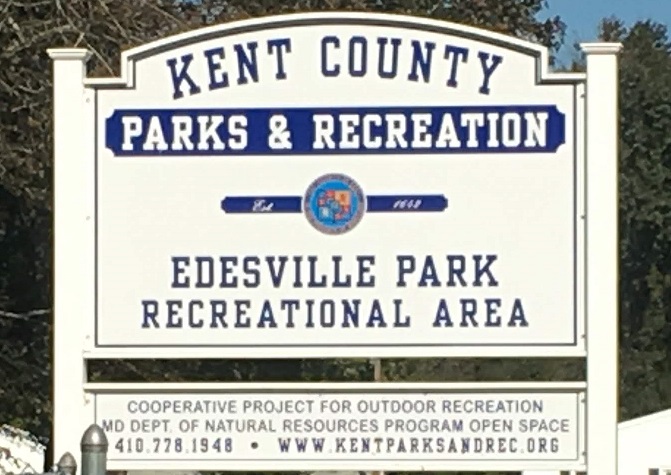 Click here for a Map of Edesville Park
This 5 acre park features a picnic pavilion/building, as well as a ball field, volleyball court, playground, walking path, and a *portable toilet.The picnic pavilion includes electric (by request), water (by request), and approximately 10 picnic tables. Call 410-778-1948 or email This email address is being protected from spambots. You need JavaScript enabled to view it. for pavilion rental information.
*Portable toilets are open from April 1 - October 31.


Toal Park 13753 Augustine Herman Highway, Galena, MD 21635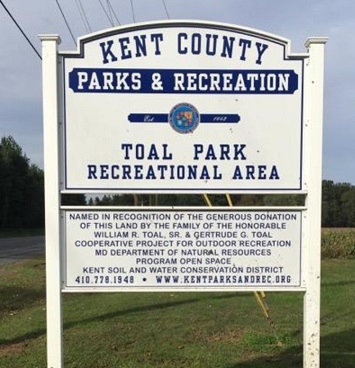 Click here for a Map of Toal Park
This 37.5 acre park is named for its benefactor, the family of William R. Toal Sr., who donated the original 17.5 acres.Through the efforts of the Eastern Shore Land Conservancy and funding from Maryland Department of Natural Resources, Program Open Space, an additional twenty acres was acquired in 2008.Toal Park is located on Mill Creek just off the Sassafrass River, and is accessible by Route 213 just outside of Galena.The picnic pavilion, with approximately 8 picnic tables and charcoal grills, is perfect for intimate family gatherings.The park also features a ball field, an athletic field, and a portable toilet*. Call 410-778-1948 or email This email address is being protected from spambots. You need JavaScript enabled to view it. for pavilion rental information.
*Portable toilets are open from April 1 - October 31.


Betterton Beach 5 Ericsson Avenue, Betterton, MD 21610 443-480-6481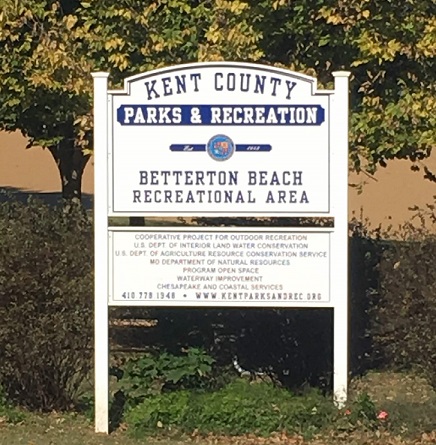 Click here for a Map of Betterton Beach

ATTENTION: Starting July 6th, Lifeguards are on duty Thursday - Sunday, 10:00 am - 6:00 pm (pending weather). When lifeguards are not on duty, it is SWIM AT YOUR OWN RISK!
This 5.2 acre waterfront park offers a sandy beach with a volleyball court, *bathhouse, Mary Roe Walkup Picnic Pavilion, stone fishing jetty, and transient boat launching ramp (please call the County Public Landings office at 410-778-7439 for more boat ramp details). When lifeguards are not on duty, SWIM AT YOUR OWN RISK. Dogs are not permitted on the beach. A picnic pavilion overlooking the beach at the mouth of the Sassafras River includes approximately eight picnic tables and a charcoal grill. Grilling is only permitted in the pavilion and grass areas, not on the beach. There is a *bathhouse with restrooms down the hill from the pavilion next to the beach. View Betterton Beach Regulations here. Call 410-778-1948 or email This email address is being protected from spambots. You need JavaScript enabled to view it. for pavilion rental information.
*Restroom and bathhouse facilities are generally open from 10:00 am - 6:00 pm May 1 - June 15 (weekends only); June 16 - September 10 (daily, pending weather); September 11 - October 1 (weekends only). Facilities will also be open during late fall special events.


Kent County Beach Advisories
The Kent County Health Department, Environmental Health Services Department conducts regular water quality tests to determine bacterial levels. When bacterial levels exceed acceptable levels, swimming in open water such as beaches is not recommended. View the most up to date beach advisory information here. Call 410-778-1361 to contact the Environmental Health Services Department for more information.
Rainfall Advisory - After rainfall, individuals should exercise caution and avoid swimming/direct water contact for at least 48 hours due to predicted high bacterial levels.
Turner's Creek Park 13684 Turners Creek Road, Kennedyville , MD 21645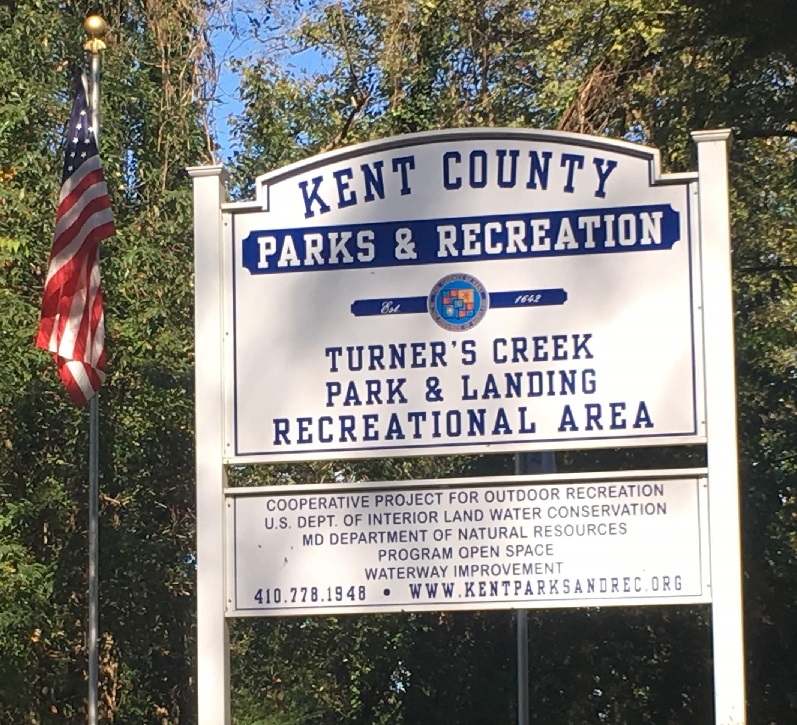 Click here for the Turner's Creek Park County Trail Map.
Located adjacent to the Sassafrass Natural Resource Management Area, Turner's Creek is part of the National Park Service, Chesapeake Bay Gateways Network. Explore 147 acres of trails, wooded acres, open fields, and a waterfront bluff overlooking Turner's Creek off the Sassafrass River. A public boat ramp is surrounded by over 100 feet of bulkhead area (please call the County Public Landings office at 410-778-7439 for more boat ramp details). The picnic pavilion includes charcoal grills, electric, and approximately 12 picnic tables. *Restroom facilities are located in the basement of the historic Lathim House (built in the late 18th century) and a portable toilet is available at the bulkhead. Other attractions include three nature trails, an abundance of waterfowl and wildlife, and a national and historic tree grove. The Kent Museum, Inc., displaying antique and historical agricultural equipment, is open by appointment only. Call 410-778-1948 or email This email address is being protected from spambots. You need JavaScript enabled to view it. for pavilion rental information.
*Restroom facilities are open from April 1 - October 31.


Concession Stand 410-810-2290
KCPR outsources the pool concession stand each season. The concession stand will generally be open from 12:00 pm-6:00 pm (day swim) and 6:30 pm-9:00 pm (night swim) when the pool is open (weather permitting). The menu items may vary depending on the vendor, but generally include pizza, hotdogs, burgers, chicken, nachos, mozzarella sticks, fries, assorted chips, ice cream, and a variety of drinks. Call 410-810-2290 for more information.
Food in delivery containers are not permitted inside pool gates.

View the Kent County Community Center Pool policies here.
Call 410-778-1948 or email This email address is being protected from spambots. You need JavaScript enabled to view it. for more information.


Kent County Community Center Pool 443-480-6491
The 13' deep pool is the largest pool of its kind on the Eastern Shore at 285,000 gallons. There are 12 lap lanes with availability of six open at one time, a tube slide in the deep end, as well as a two person slide in the shallow end. The shallow end features tumble buckets and a zero depth entry zone with floor bubblers and "beach wash" water jets. There is also a separate wading pool for small children with a turtle slide that squirts water from its mouth. A swimming pool wheelchair is available for people with limited mobility to enjoy the benefits of being in the pool, whether it is for play or to engage in rehabilitation exercises. Pool rentals include exclusive use of the pool outside normal operating hours and includes lifeguards. Call 410-778-1948 or email This email address is being protected from spambots. You need JavaScript enabled to view it. for pool rental information.

Community Center Pool information and events
Community Center Pool rental policies
Pool Facility Rules


Worton Park 10932 Worton Road, Worton, MD 21678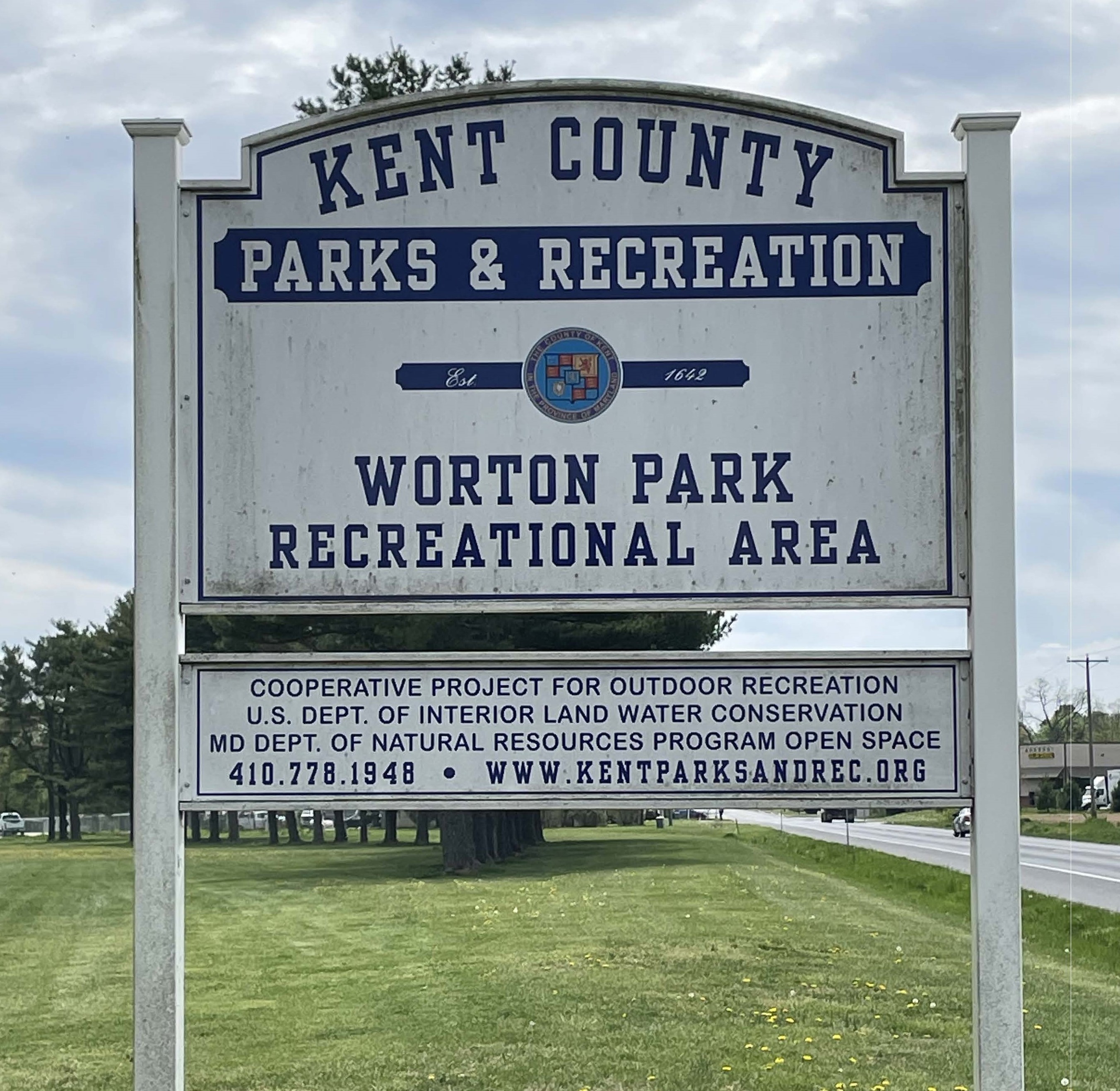 Click here for a Map of Worton Park
Enjoy 97 acres of a multi-use facility including numerous multi-purpose ball fields (one lighted), platform tennis courts, tennis/pickleball courts, sand volleyball, and basketball courts.The picnic pavilion, located in the heart of the park, includes approximately 15 picnic tables, charcoal grills, water (by request), and electric (by request). The Restroom facilities* are located in close proximity to the pavilion. Worton Park also features a .6 mile walking path with exercise stations throughout the path. Use this path to keep a safe distance from traffic while still keeping an eye on playground and field activities.

Call 410-778-1948 or email This email address is being protected from spambots. You need JavaScript enabled to view it. for pavilion and field rental information.
*Restrooms and portable toilets are open from April 1 - October 31.


SPECIAL EVENT RECYCLING PROGRAM (SERP)
In accordance with the requirements of the Special Event Recycling Program (SERP), should any rental expected to have 200 or more persons in attendance, and serve food or drink, will be required to, at the contract holders' cost, provide recycling for the following items:
cardboard; glass containers; plastic containers; paper; metal containers; food scraps. In addition to providing recycling receptacles for recycled items, the contract holder is responsible for ensuring the collection of all recycled materials from the rental site.

View the SERP Fact Sheet here. Call 410-778-7439 for more information.


County Parks & Betterton Beach Pet Waste Program
Kent County has adopted a pet waste program to aid in the reduction of pollution in Kent County parks, rivers, and the Chesapeake Bay. The program follows guidelines recommended by the Maryland Department of the Environment.
Help Kent County Stop Pointless Poo-lution - Studies have found that roughly 40 percent of Americans don't pick up their dogs' waste. You can help by picking up after your dog 100 percent of the time. Below are some tips on what you can do to help keep Kent County waters, parks, and residential properties clean and healthy:
- Always clean up after your dog on walks and remind your neighbors and friends to do the same.
- Don't wait to scoop in you own yard. Keep an eye out and scoop immediately.
- Take multiple bags on walks.
- Throw out pet waste in a bio-degradable bag OR flush waste down the toilet, please don't flush the bag. Do NOT throw dog waste in a compost bin.
- Do not throw pet waste near a storm drain; use a trash can.
DO MORE TO PROTECT BETTERTON BEACH AND KENT COUNTY PARKS.
View the Pet Waste Program here.